Explain Chromatography.
Answer: Chromatography is the technique used for separation of those solutes that dissolve in the same solvent.
To understand how this technique can be used let us perform an activity.
Take a thin strip of filter paper. Draw a line on it using a pencil, approximately 3 cm above the lower edge as shown in figure(a). Put a small drop of ink (water soluble, that is, from a sketch pen or fountain pen) at the centre of the line. Let it dry. Lower the filter paper into a jar/glass/ beaker/test tube containing water so that the drop of ink on the paper is just above the water level, as shown in Fig(b) and leave it undisturbed.
Watch carefully, as the water rises up on the filter paper. Now observe that the coloured component that is more soluble in water, rises faster and in this way colours get separated.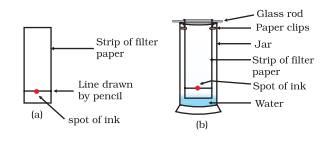 Applications of Chromatography
To separate
• colours in a dye
• pigments from natural colours
• drugs from blood.