Name the tissue responsible for movement in our body, What does a
Name The Tissue Responsible For Movement In Our Body, What Does A Neuron Look Like, Give Three Features Of Cardiac Muscles, What Are The Functions Of Areolar Tissue
In text questions of page no 78
In text questions of page no 78
Q No 1: Name the tissue responsible for movement in our body.
Ans: The muscular tissue is responsible for movement in our body.
Q No 2: What does a neuron look like?
Ans: A neuron consists of a cell body with a nucleus and cytoplasm. It has two important extensions known as the dendrites and axon.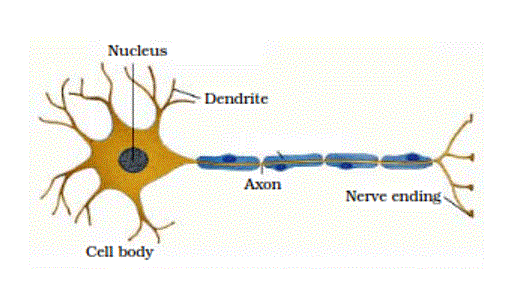 A Nerve Cell
Q No 3: Give three features of cardiac muscles.
Ans: Three features of cardiac muscles are:
Cardiac muscles are involuntary muscles that contract rapidly, do not get fatigued throughout the life.
They control the contraction and relaxation of the heart.
The cells of cardiac muscles are cylindrical, branched, and uninucleate.
Q No 4: What are the functions of areolar tissue?
Ans: Functions of areolar tissue are:-
It fills the space inside the organs
It helps in supporting internal organs.
Please send your queries to ncerthelp@gmail.com you can aslo visit our facebook page to get quick help. Link of our facebook page is given in sidebar